At Everest Academy, we are dedicated to the challenge of the climb. Our small classes and expert teachers ensure that students receive individualized and customized education that is tailored to their needs to drive success. Our rigorous academic program includes SAT preparation, daily enrichment blocks, and individual academic support which ultimately helps students prepare for admission to, and achieve long term success in, top Colleges and Universities in Canada and the United States.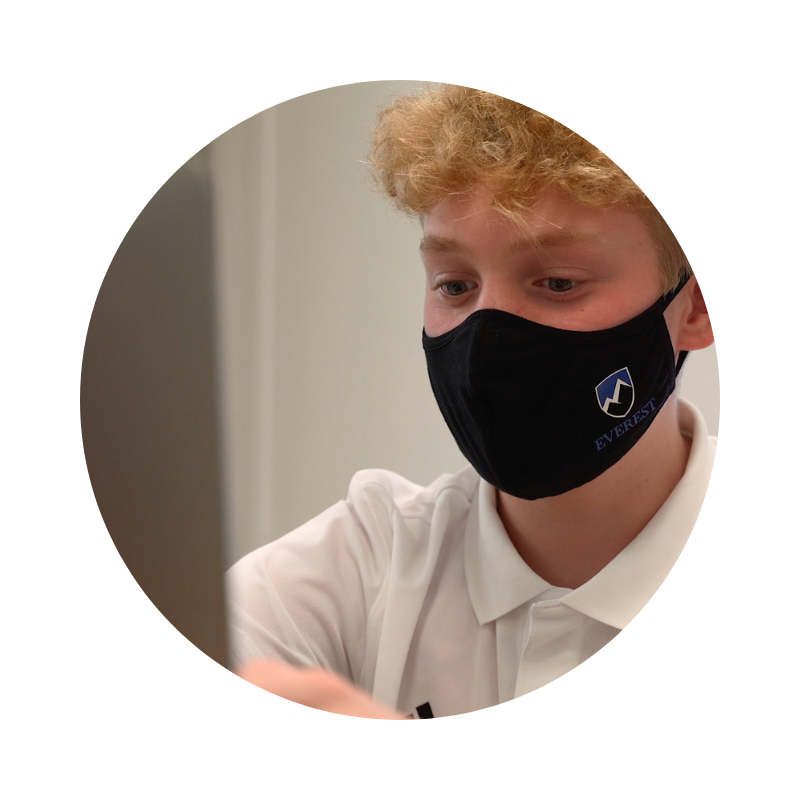 Small Class Sizes
At Everest, academic classes are capped at 18 students. This ensures that students are highly engaged and receive teacher attention in every class. Teachers get to know each student and understand each student's individual learning style, habits and needs. Instructional techniques are adjusted to suit each student. Deadlines can be customized to ensure that a student's outside schedule does not negatively impact their ability to study and prepare for assignments, exams and assessments. Our online education platform, Edsby, provides each student a way to stay current with class materials and teachers anywhere, anytime.
Leading Educators
Faculty members at Everest Academy are Ontario College of Teachers (OCT) certified. More importantly, they are educators who are passionate about working with kids. Our teachers understand the importance of building solid relationships with their students and believe that investing in knowing and caring for each student is the gateway to a student's desire to learn.
Post-Graduate Programs
A Post-Graduate (PG) year provides Secondary School graduates with an opportunity to take an extra year to prepare for University or College before enrolling. Many NCAA schools are now guiding their committed and uncommitted scholarship students to take a PG year before matriculating to University. The PG year benefits students in a variety of ways. Often athletic programs at Universities want the prospective student-athlete to get physically stronger or further develop their sports-specific skills before offering them a scholarship. Families may also seek out PG programs to offer students an opportunity to mature. At Everest, PG students develop academically and benefit from our Athletic and Strength & Conditioning Programs.
Enrichment
At Everest, students participate in a unique academic Enrichment block for thirty minutes each day. Enrichment is a scheduled period where students meet with their teachers to: consolidate their learning, get extra help, review the day's material, or help prepare for an upcoming assessment. Enrichment ensures that students are getting all of the academic support that they need to succeed in the classroom so that they can focus on their passion, from athletics to music, outside of school time.
ESL
The Everest Academy community is incredibly diverse.  Our international student population often represents ten or more countries each year.  These students come from homes where very little English is spoken so an intense English program is required before other subjects can be taught. Available to students who demonstrate the need, the ESL program that has been incredibly successful at teaching kids conversational, reading, and written English to help them succeed in the classroom and beyond.
Everest Middle School classes fosters a love for learning while helping students develop the foundational skills necessary for later academic years. Students learn through inquiry-based, differentiated instruction in language, mathematics, science, social studies, French, physical education, and arts. Small class sizes allow teachers to recognize individual students' strengths and build upon these through engaging and creative lesson planning. Students are challenged to push themselves outside of their comfort zones and apply their learning to new situations, both in the classroom and through department-wide initiatives such as the annual Speech Competition and Science Fair. Character development is purposefully integrated into classroom activities, allowing students to emerge from the Elementary program as more confident, resilient and caring individuals who are ready to take on the academic and social demands of later education.
The Intermediate Program at Everest Academy is designed to help students build foundational academic skills in each of the major subject areas – Language, Mathematics, Science, French, History, Geography, the Arts, and Physical Education – with the overall goal of preparing students for the transition to the rigours of Secondary coursework. In Grades 7 and 8, students have a rotary schedule, which exposes students to teachers who are specifically trained within the relevant subject of expertise. While we prepare students for High School, we recognize the transitional and formative nature of the Intermediate years. As a result, students begin their day with a homeroom teacher and then loop back to that same teacher during the end of day for an Enrichment block – a period that focuses on the learning skills and work habits necessary for academic success. This unique structure allows students to have their day start and end with a teacher who understands each student's strengths and needs. 
Everest Academy offers Secondary students a diverse range of rigorous courses that prepare students for University acceptance. Our small class sizes ensure that students are engaged in learning, are challenged, and are supported to reach their full potential. Our dedicated teachers are committed to the growth and development of all student-athletes. Everest Academy delivers courses to meet and exceed the curriculum of the Ontario Ministry of Education. Edsby, our online platform, allows students to access curriculum and interact with teachers from anywhere, anytime to accommodate busy schedules.
NCAA & USport Counselling
Everest Academy prides itself on helping our students reach their academic and athletic potential. For many of our student-athletes, the realization of their athletic and academic goals is represented by playing their sport with the support of a scholarship program at the collegiate level. At Everest Academy, we are committed to guiding you and your family through the process of accessing the best possible educational and athletic opportunities here in Canada, as well as the United States, and gaining access to as many scholarship opportunities as possible. In order to help you access these opportunities, we have developed a Guidance Program aimed at preparing students for a seamless transition from Everest Academy to the University that is the best academic and athletic fit for you. Coaches also help families through the recruitment process, offering references and support through each step of the communication process between a student-athlete and their prospective University and coach.
SAT & ACT Preparation
Everest Academy's SAT preparatory classes are designed to help students increase their SAT scores and meet their admission goals by developing the necessary test-taking strategies as well as required math, reading, and writing skills. These in-house classes allow students to receive instruction from their current teachers and works in conjunction with Everest Academy's Guidance Department in order to help our students effectively prepare for the admissions and application processes at US Colleges and Universities and meet NCAA eligibility guidelines.
where can you find everest academy graduates?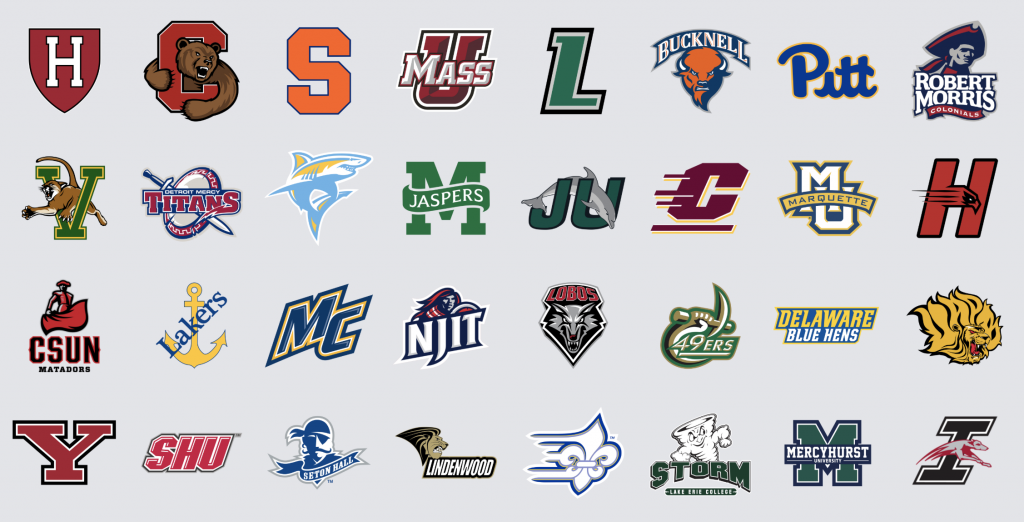 Our alumni can be found throughout the NCAA and Canadian University systems:
Beginning fall 2020, Everest Academy students, staff, and families will have access to our new online learning platform, Edsby, to enhance and supplement in-class learning. This is a platform dedicated to the needs of Everest Academy. Students (and parents) can easily keep abreast of class deadlines, school events, tests, assignments and other important learning information using this platform. Students who are heavily involved in competitive skills outside of the classroom can stay current through the online platform.
Online access to assignments (upload/download/submit)
Aggregated multi-class calendar
Private or group messaging between students and teachers
Help stay on-task with reminders of key events and dates
View and download study notes or missed classroom materials
View of school calendar
Private or group messaging between parents and teachers
Reminders of key upcoming events and tasks
Online access to report cards, attendance, trip permission slips and more
Class-specific calendars
Assignment management
Online quizzes and assessments
Online communication with parents and students
Class-specific curriculum centre for study notes, supplemental materials and other course information
Everest leading the way in online learning. Have a look at Mr. Lakhani's High School Math online learning class!