At Everest Academy, academic excellence is the key tenet of our unique approach. By providing small class sizes our teachers know each student and their individual learning style. Classroom engagement is high. Our faculty know that teaching is a relational process, so students feel cared about and well nurtured along their journey. Everest offers courses at the highest level with a depth and breadth that allows every student to pursue their area of passion and best prepares them for University. 
What Can Everest Offer
Child?
Everest Academy is innovating the traditional educational model, making Everest the leader in individualized learning and customized education. With Everest's unique integrated schedule each student's skill training, fitness training, and academic classes are built into the daily schedule. Combined with customized timelines to fit each student's club sport schedule, each day at Everest is intentionally structured to maximize the student's academic, athletic, and personal potential. Learn more about Academic Programs at Everest. 
At Everest Academy, most students play a sport outside of school at a very high level. Students practice their sport skill as well as receive fitness training everyday within their school schedule. Supported by elite coaches and Strength & Conditioning staff, students are given the best instruction everyday. Parents love the one-stop-shop for all the child's needs; instead of running all over the city every night of the week. Learn more about our Athletic Programs.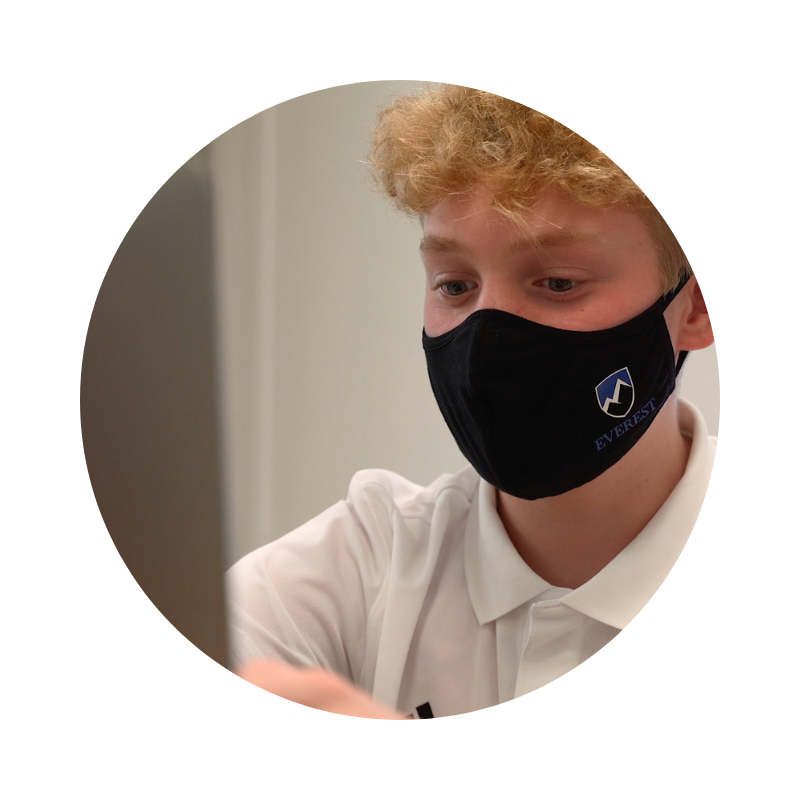 One of the Everest Academy strengths is how well our former students and their parents tell us they were prepared for their next steps. Of the graduating class each year, about 96% choose to apply for University, while the other 4% typically pursue Hockey in the OHL or other athletic opportunities. For the 96% who apply to University, 100% are accepted and attend top universities in Canada and the United States. 
At Everest, a core piece of our student's development is activated through fitness. Led by the Everest Strength & Conditioning coaches, each day students get fitness training built into their schedule. Believing in the development of the whole child, daily fitness helps our students be mentally and physically ready to achieve excellence in their sport and in the classroom. Learn more about our Strength & Conditioning Program.
Everest Academy students have access to Edsby, a web-based learning platform to enhance and supplement in-class learning. It is a platform dedicated to the needs of Everest Academy. Students (and parents) can easily keep abreast of class deadlines, school events, tests, assignments and other important learning information using this platform. Students who are heavily involved in competitive skills outside of the classroom can stay current through the online platform. Learn more about Online Learning at Everest Academy.
At Everest, with our small school approach, intimate classroom size, and caring attitudes from faculty and staff, there is a strong sense of community within the school. Coaches, teachers, and instructors work with the students in different ways on a daily basis, leading to strong relationships and a school culture that ensures each student is known and cared for at Everest.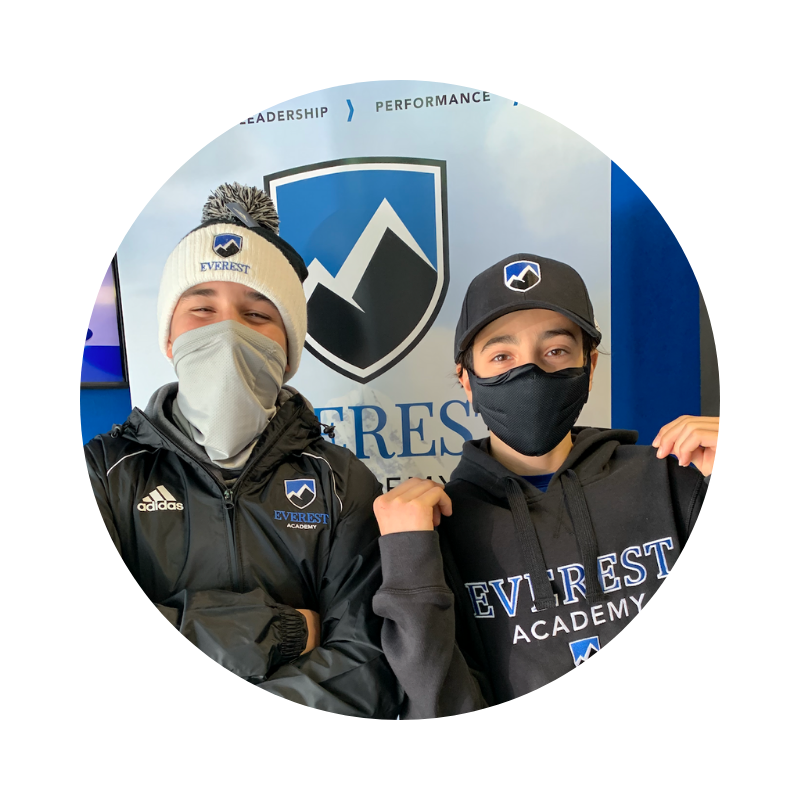 Everest has already established a strong group of alumni who have attended top universities and still maintain a close relationship with the school. We currently have 7 former students who were NHL draft picks, 80 OHL draft picks, and 80+ NCAA scholarships. Everest graduates constantly tell us how Everest not only helped them to get into top universities, but prepared them to excel both in and out of the classroom. Learn more about our alumni and where Everest former students have matriculated.
At Everest, opportunities abound for our students to develop as motivated and thoughtful global citizens. The renowned Duke of Edinburgh program and Everest service days are just two examples of opportunities for students to develop their leadership skills. Our intimate community ensures that our teachers and coaches are constantly mentoring the students to support their leadership development.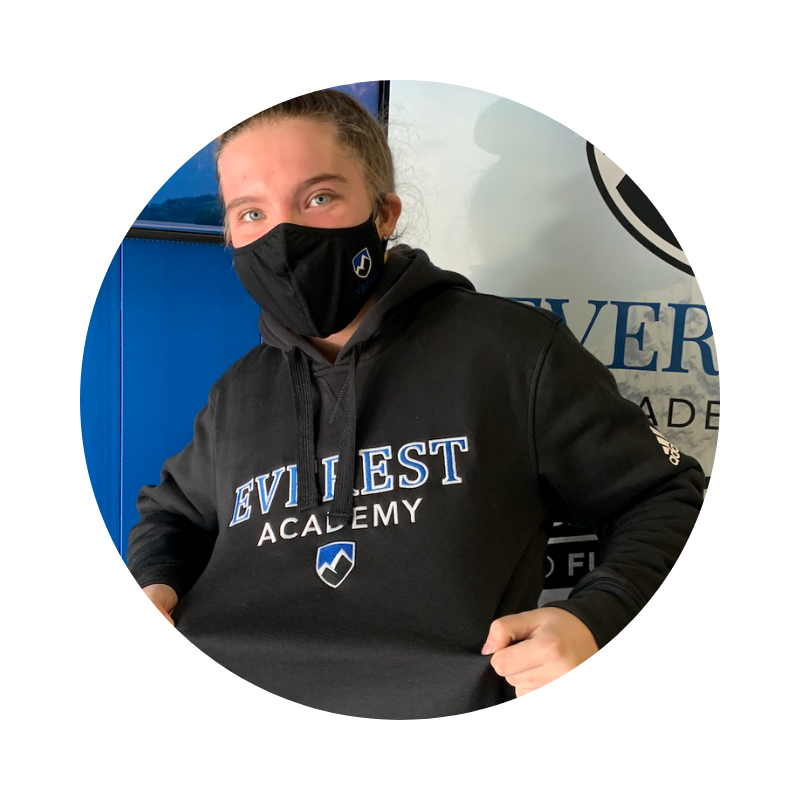 Lead by Wellness Chef, Andy Muto, Everest Academy offers a daily meal and snack plan built specifically to fuel elite student-athletes. Chef Muto has had a career in food for over 35 years. As Wellness Chef to Gary Roberts High Performance Program Training, he wholeheartedly support Gary's ethos to "refuel" the body with good nutritious food. He has also worked with the NBA Champion Cleveland Cavaliers, the Canadian Olympic Basketball Team, Adidas Marathon Runners, Kids in Minor Sports & those involved in an Active Lifestyle. All food is prepared fresh, daily and in-house with locally sourced ingredients when possible, we are invested in our community! Our daily meal and snack plan is also supplemented by our on-campus Smoothie & Snack bar for that pre- or post-workout smoothie or recess snack.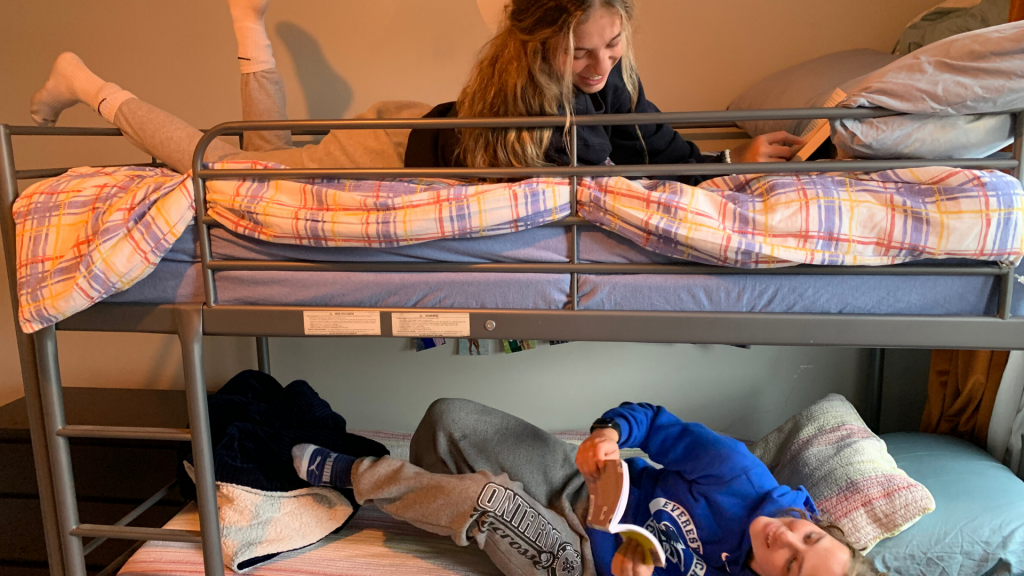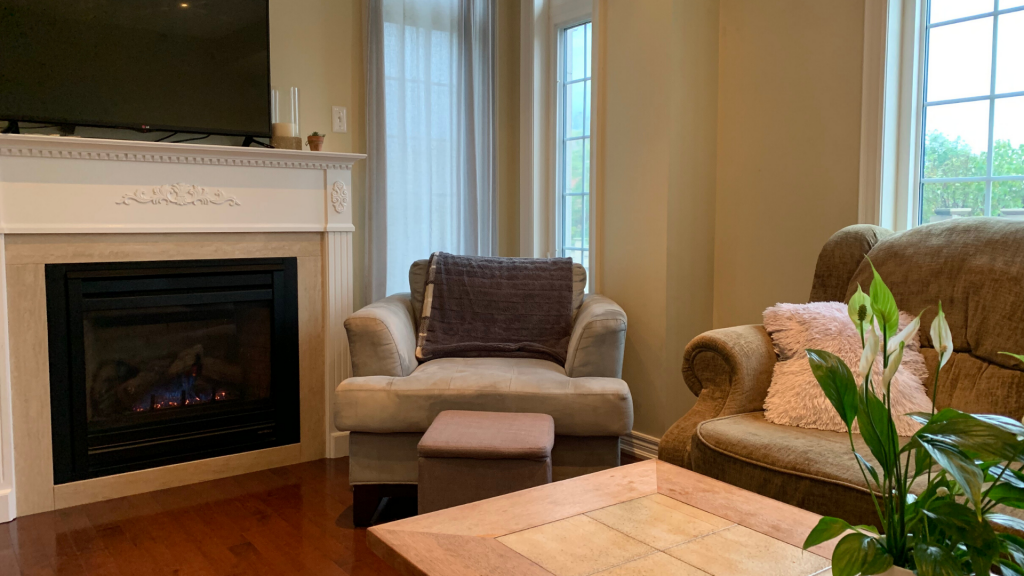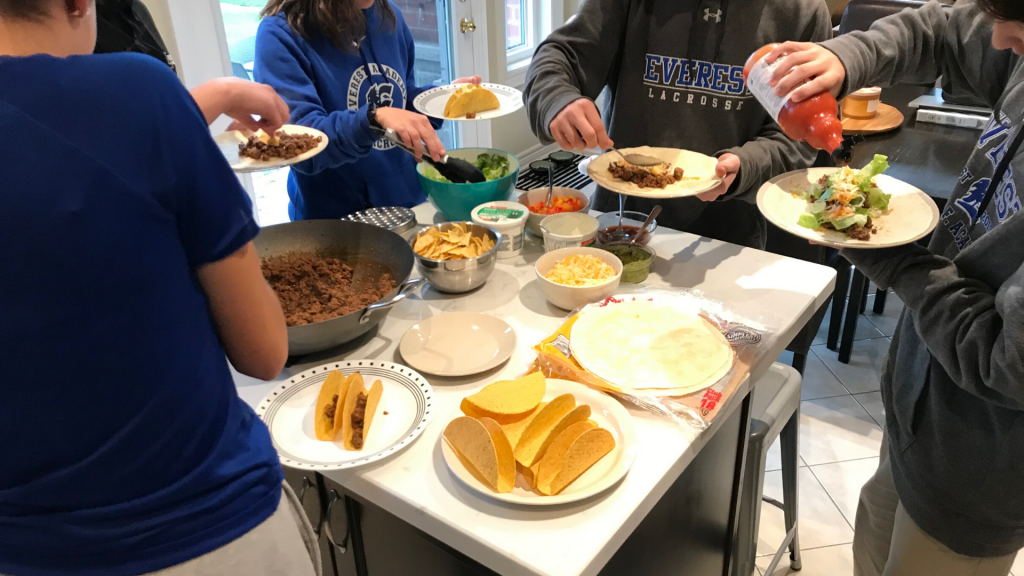 Everest Residence Program offers a small number of Secondary students the opportunity to live in a small school housing experience. Living in residence at Everest provides students with a tremendous academic and athletic experience you'd expect from Everest Academy while at the same time prepares them with the life skills they'll need to succeed in University. Guided by the Everest staff who oversee the Residence, boarding is one of the most powerful ways students learn to appreciate the diversity at Everest while building their own character and help to build our school community.
At Everest Academy we are pleased to offer music as a study option to our students. Our philosophy is to have our students develop the skills that will enable them to grow and excel as musicians, both individually and in small group environments when possible. We aim to create an environment where the love of music is and will always be the focus for students and faculty alike. Join us as we look to build a recognized, world class music program.
At Everest Academy, our investment in innovation means bringing the programs at the forefront of the academic world to our students. STEM stands for Science, Technology, Engineering and Math and STEM programs at all levels are helping to bridge gaps and diversify in-demand jobs in those fields after graduation. Moving beyond curriculum requirements in standard classes like Mathematics and Science, the STEM program at Everest is available to students grades 1 through 8 and brings project-based learning to our student body. Available as a Skill selection, this new addition to our programming in 2019-2020 has been embraced by staff and students alike. Build bridges and roller coasters, work with robotics or in a lab – we are hoping to foster a love of these four core subjects right here on our campus. 
what is the s.e.l.f. model?
At Everest, learning is built around each student. S.E.L.F. stands for Skills, Education, Leadership, and Fitness and is a foundation to our educational and athletic approach. Read below for more information on these four pillars of our programming. 
Students at Everest have two paths to choose from to develop their skills. For the majority of our students, they are in the skill development path which means they play for a team outside of school. This model allows them to practice and do fitness training each day at school, then fully participate in their team activities in the evenings and on weekends. Secondary students who are Hockey or Lacrosse players have the additional option to play for an Everest Prep Team. This model builds a Strength & Conditioning program and Team Practice into the daily schedule. 
Learn more about our Skills Programs.
At Everest Academy, learning is built around each student. Our small school size, small classes and expert teachers ensure that students receive an individualized and customized education that is tailored to their needs and success. A rigorous academic program that can include Advanced Placement courses, SAT preparation, enrichment, STEM programming, and academic support helps students prepare for admission to, and success in, top Universities in Canada and the United States. Learn more about our Academic Programs.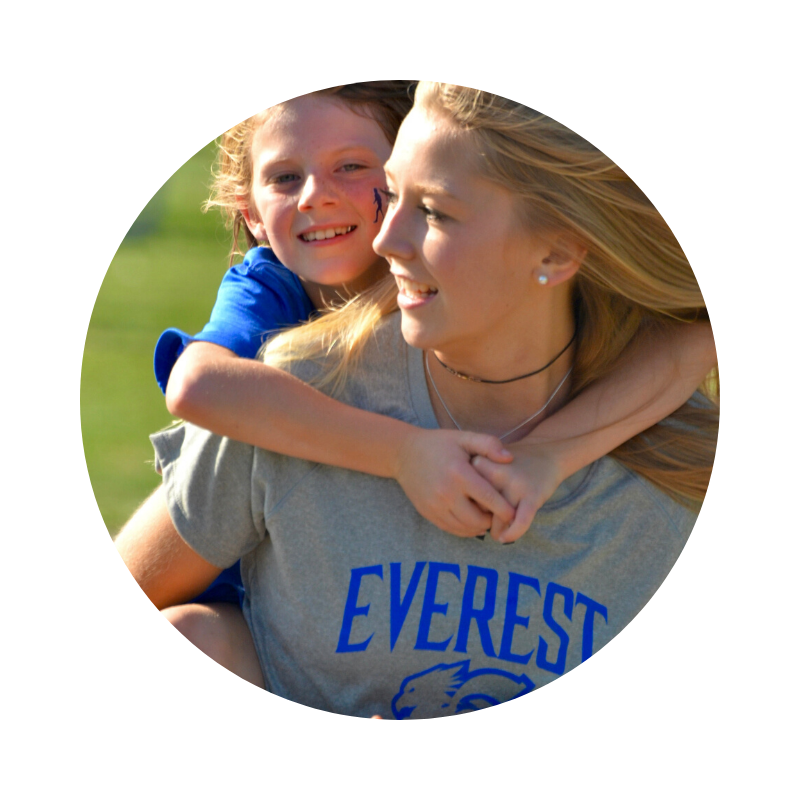 At Everest, every student is a leader. Our environment offers students the opportunity to learn more about themselves, develop a personal vision, nurture strong friendships, and build key personal skills that will serve them for a lifetime. The Everest faculty leads by example. Our high standards and strong belief in nurturing the whole child create a unique environment that fosters individual growth and personal leadership. Character development is a key component of the Everest S.E.L.F. platform. Integrity, cooperation, community, and work ethic are values taught through in each academic and athletic environment in a student's day. Our teachers, coaches and directors understand the important role and influence they have on our students. They are committed to guiding each student in the right direction; helping them develop good habits while building a strong foundation. Everest students become independent, confident, and engaged leaders.
At Everest Academy, healthy living is a primary component of our student-athletes' development. It starts with athlete-specific Strength & Conditioning training four days a week in our fully-equipped on-campus weight room. Led by our team of training specialists, our programs are structured around the fundamentals of movement mechanics, recovery and regeneration, speed, agility, core stability and explosiveness. Performance testing is performed three time a year to help track and monitor individual progress. Through our online platform, our athletes also measure their progress, nutrition, daily wellness and recovery. Learn more about our Strength & Conditioning Program.